SKI AND YOGA RETREAT EXPERIENCE
From the 13th to the 18th of January 2022
Ingrid believes that yoga with skiing is the perfect match. She knows that the key to an amazing yoga ski holiday is an equal emphasis on the yoga and the skiing. With this unique combination you are guaranteed to feel invigorated on the slopes and wonderfully relaxed, energized and invigorated when you get back to the luxurious Chalet Blanche.
Co-hosted with Jim Harrington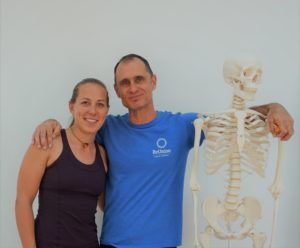 Jim Harrington is a lifelong yoga practitioner, yoga teacher trainer and yoga coach to professional people. He is the founder of ReUnion Yoga & Meditation Studio and YogaForSports, a writer and world traveler. He teaches yoga classes, yoga teacher training, workshops and retreats.
As a mentor for hundreds of students and teachers, including Ingrid and his philosophy is "Anyone who can breathe can do yoga."
Jim's teaching is informed by a medical and scientific approach to yoga. The synthesis of the ancient traditions with contemporary thinking and research- based science continues to inspire his approach to yoga and meditation.
Morning Yoga
Prepare for your day of skiing with Ingrids' dynamic 75 minute Vinyasa Yoga class to awaken the mind and body, assisted by Jim. These Special Yoga For Skiing sessions will warm the body, stretch out the legs and build stamina for your turns and powder runs.
Evening Yoga
After your full day skiing, return to the Chalet to unwind and relax with Jims' 90 minutes restorative or yin yoga class, assisted by Ingrid. This gentler session will vary each evening and include meditation to help mind and body really let go and allow you to enter a state of deep relaxation.
The Skiing
Ski every day on your own, with new and old friends or a ski Instructor.
The retreat gives you priority booking and discount rates for a private ski lesson with your world class ski instructor Ingrid. The lessons will totally be adaptable to your needs! Wanna to work on your technique, cruise around, go off piste, or try yoga on snow. You name it you got it!
Daily Program
Day 1 – Thursday, March 19th 2020
17:00-19:00 – Arrival

19:30 – 20:30 – Opening circle and Yoga Class Special After A Traveling Trip!

20:45 – Welcome drink & dinner in the company of old and new friends
Day 2, 3, 4 & 5  – Friday, Saturday, Sunday & Monday March 20th to March 23th 2020
7:00 – 8:15 – Dynamic Vinyasa Flow Special Yoga for Skiing to get us raring to go for a fantastically fun-filled day

8:30 – Delicious brunch to stoke our energy for the day ahead on the slopes

9:00-17:00 – Fun times on the mountain 

17:00-18:00 – Time to relax, unwind, perhaps grab a nice massage or chill in the sauna

19:00-20:30 – restorative Yoga session to unwind the body and mind

20:30 – dinner
Day 6 – Tuesday, March 24th 2020
7:00 – 8:30 – Last yoga class and closing ceremony

8:45 – Big brunch feast!

10:00 – Check out 

10:30 – You're welcome to go for a last ski day!

*certain times can be adjusted to your needs
THE VENUE
The Chalet "Blanche" is very close to the ski lifts and offers the best views of the Mont Blanc!
The Chalet is located in a peaceful aria of St-Gervais located at an altitude of 1100m. You will appreciate the generosity of it's volumes, the cosy ambiance,the luminance, the perfect interior layout, the calm neighborhood, the confortable beds, and the exceptional views!

Bedrooms
8 bedrooms sleeping 16
2 bedrooms with double beds
6 bedrooms with 2 twin beds that can convert into 1 queen size bed

Bathrooms
6 Bathrooms
3 separate toilets

Community Spaces
3 kitchens including one for our chef Mélissa
2 living rooms & 1 yoga shala
Sauna & massage room

Location
2,5 km from the ski lifts
4,5 km from the town center

Outside
1400m2 garden
5 private parking spaces

Important notes
No smoking inside
All linens, towels & hair dryers included
Stay in a luxurious chalet, practice Yoga and Ski with world class teachers & eat delicious vegan and vegetarian food for 1250€*
what's included:
5 nights in shared double room in a quadruple appartement within the luxurious chalet Blanche in Saint-Gervais Mont-Blanc.
Healthy breakfast & dinner every day
10 yoga classes
optional:
100€  extra for a shared twin double room with private bathroom
600€ extra for a single room with private bathroom
private ski lesson with Ingrid
private yoga class with Jim
cooking class with Mélissa
massages & treatments
what's not included:
lunch
transportation
ski pass
ski equipment rental
tourist tax 2,25€/day/person