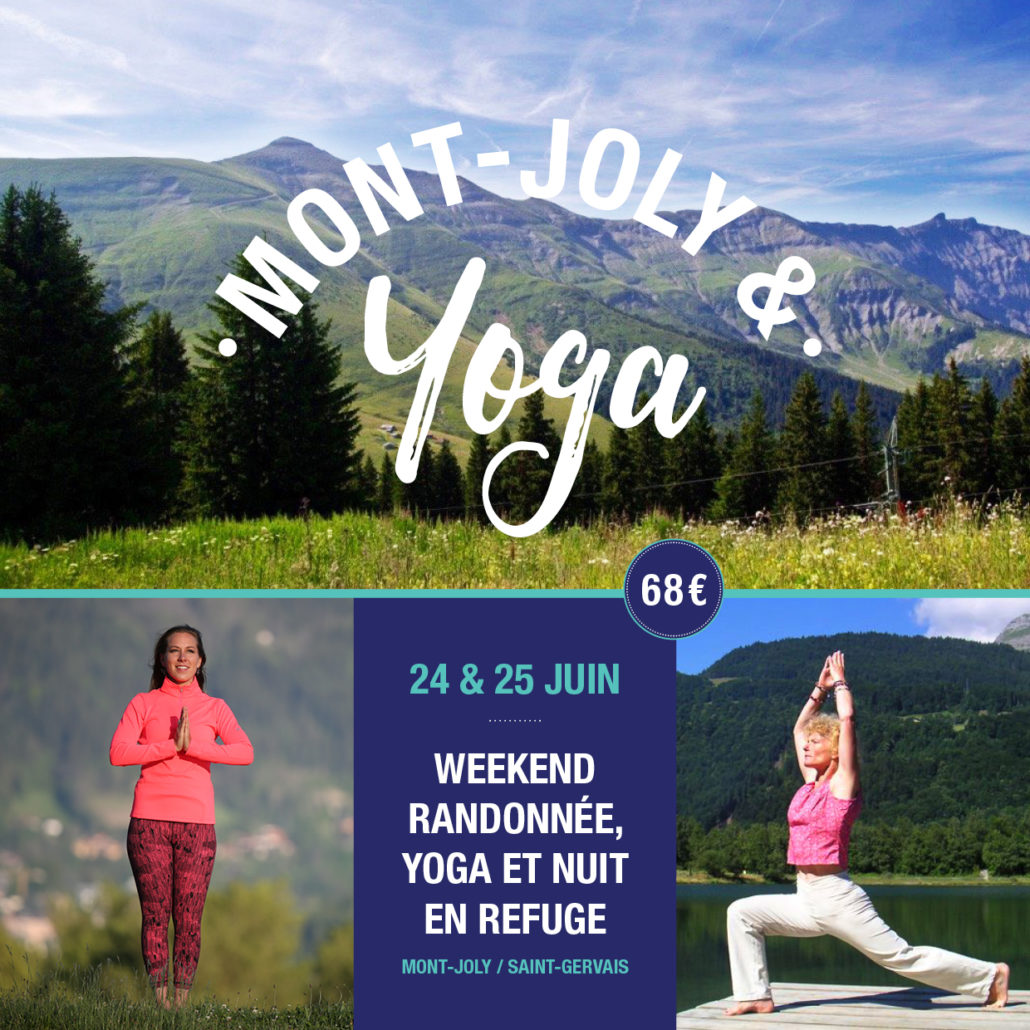 Morning Yoga
Prepare for your day on the mountain with Ingrids' dynamic 60 minute Vinyasa Yoga class to awaken the mind and body. Special Yoga before hiking session will warm the body, stretch out the legs and build stamina for your uphill ascent to the Mont-Joly.
Evening Yoga
After a nice hike to the refuge, time for yoga to unwind and relax with a 75 minutes restorative Hatha yoga class by Marie-Claude Hubert. This gentler session will help your mind and body to really let go and allow you to enter a state of deep relaxation.
The Hiking
The Mont-Joly is the highest point of the Saint-Gervais ski area located at 2525m. In the summer the snow has melted and  you trade your skis for hiking shoes. It's a perfect the place to see wildlife such as chamois, bouquetins, marmots, eagles and many more!
Daily Program
Day 1 – Saturday June 24th 2017
14:00 – Meeting point at Le Fayet-Saint-Gervais train Station

14:30 – Start hiking from The Planey 1439m.

    Easy 600 m of ascent to the refuge. Observation of chamois along the way. 

17:00 – Yoga on the 360° view terrasse of the refuge facing the Mont-Blanc

20:00 – Welcome drink & dinner in the company of old and new friends
Day 2 – Sunday June 25th 2017
7:30 – Rise up and salute the sun Dynamic Vinyasa Flow 

8:45 – Delicious breakfast to stoke our energy for a day of hiking! 

9:30 – Off we go to the top of Mont Joly 2525m -approx 1h30 to the summit

11:30 – Guided meditation facing the Mont Blanc 

12:00 – lunch time

13:00 – For those who wish, hike to the col du Joly and back to the Planay -a good 5 hour                     hike. Also possible to take a shorter hike back down.
*certain times can be adjusted to your needs
Price / Person:
2 days / 1 night 68€
what's not included:
lunch
transportation to Saint-Gervais